Personalised Private Platypus Tour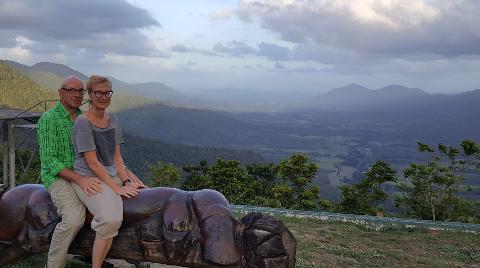 Duration : 1 Days (approx.)
Location: Finch Hatton, QLD
Product code : PPDT09
Personalised private guided tour to suit you. Choose your pick up time from 7.30am then choose your return time (flexible) and drive to the Pioneer Valley stopping at Dame Nelly Melba's house - time permitting as opening time is 9.00am. Continue further into the Valley to Finch Hatton Gorge walking up to Araluen and Wheel of Fire waterfalls. Lunch at own cost at the Church Cafe - a little taste of Italy then drive to Eungella for breath taking views of the Valley and a then a short walk to the Sky window. Next stop is Hideaway Cafe to walk through the stunning gardens and to see handmade hats, crafts, jewellery and to admire the hand carved walls, doors and coffee tables. From here we go to Broken River to spot a platypus in the wild included is a 30 minute platypus education and practical tips on how to spot a platypus. Leaving Broken River, we then travel down to Pinnacle and have the opportunity to try the famous award winning pies at own cost or back to Mackay to a restaurant of your choice.
This tour can be adjusted to your preferences just state them in the special needs when booking for example national park walks, trip to Cape Hillsborough to see the wallabies on the beach (must be there at sunrise).
Or head to the Sarina Sugar Shed and award winning attraction and after the tour taste their sauces, chutneys, freshly made fairy floss, alcohols and their award winning rum. On the way there we can stop at Hay Point coal depot to see the magnitude of the coal harbour, coal and ships waiting to be loaded if this is something that would interest you.
Perhaps something a little more adventurous such as Forest Flying where you can take your time and your camera and use the brake to stop anywhere and as often as you like along the zip line to take memorable pics of the wildlife and the river below as you fly 25mts above the rainforest.